Description
iPhone Unlock is one of the most requested services, and we have finally added it.
If you already purchased a Locked iPhone it doesn't mean you stuck with its Carrier (GSM) forever. To unlock an iPhone from its current network you will have to pay it off with its original carrier,
Let us say your original carrier is USA AT&T and you want to switch to USA T-Mobile. If you have a locked iPhone, you need to pay off its full payment plan and contact the Carrier to unlock it. Or go to a 3rd-party service to unlock your Locked-iPhone with remote unlock.
IMEI Check Sample Result for our service before unlock and after unlock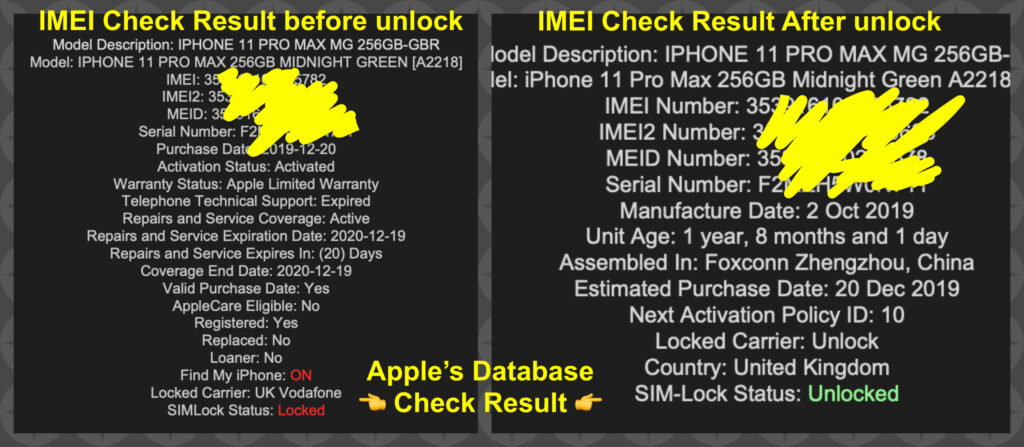 Locked iPhone means the iPhone can only use a specific SIM. To use it with other Network Carriers, you need to Unlock it!
Carriers (GSM) sell Locked-iPhones for good prices compared to the Original iPhone Prices just to keep you in their network and pay the contract fees. So,
You won't be able to switch to any other carrier as your device will be carrier lock, unless you pay the whole contract payments. Basically, they sell cheap iPhones to get more customers in their network, it seems like a Marketing Strategy.
What are the requirements for unlocking?
In fact you don't need any details just the IMEI number to get your device unlocked, no cables needed, no complicated steps, no softwares no jailbreaking tools,
Carrier Unlock iPhone

Process?
The iPhone Unlock Process is very simple;
Start calling *#06# from your iPhone dialer, to get your iPhone IMEI number if the device is in your hand, but if not just use other ways.
Once you get the IMEI number make sure its locked on your selected choice just by using the IMEI Check Service.
Select your Locked Carrier and Model. If you don't know your carrier, please don't submit wrong carrier

.

Add your IMEI number on the above bar 15 digits.
Then Press on Add To Cart, to request an unlock and Complete your Payment checkout.
Within the Time frame 🚀 we will update you with the unlocked message 📨.
CONGRATULATION ITS DONE 🤩🥳
How long it takes to iPhone Unlock My device?
Our iPhone IMEI Unlock usually takes 3-7 Business Days, varies based on the Model & Carrier. Once we successfully unlock your iPhone Carrier, we will send you a Congratulation Email.
Make sure before applying for an unlock, that your device is locked on the carrier that you have selected.
Moreover, if you have any questions you can Contact Us, and we will reply to your request within 24 hours, or follow up your order by just tracking it through the Track Order page.
Why do I need to Unlock my iPhone?
Once you get an unlocked phone you are freely able to use your device on any other network, simply by just switching between sim cards.
Unlocked phone increases the value of the device by about 30%.
It will be easier for you to travel from place to place and switch between carriers with no restrictions.
It's Permanent Unlocking service
Save money when using a local roaming and avoid exorbitant fees when traveling from place to place Overseas.
Your unlock will be a Lifetime warranty.
Freely upgrade your device to any iOS firmware.
Our unlock will be remotely you don't need to send your device just submit the IMEI and after it gets unlocked you will just need to connect your device to iTunes.