الوصف
iPhone IMEI Check PRO is All-in-one IMEI Checker for Apple Devices, it's the most high-rated check, 100% accurate with all the IMEI Check info you need ⭐
Why our iPhone IMEI Check PRO is the best IMEI Check?
Forget about FREE IMEI Check websites, they only provide you with simple info for free. After that, they will ask for money to give you real information like SIMLock/Carrier, Blacklist Check, iCloud Activation Status, … etc. Most importantly, most of those FREE IMEI Checkers aren't accurate, and you might get wrong information about your IMEI
ALL IN ONE SERVICE
SIMLock Status + Carrier Check + Warranty Check + Blacklist Full Report Check + فحص حالة الايكلود + Purchase date + Technical Coverage Status + Refurbished, Replaced
Our iPhone IMEI Check PRO service provides you with 100% ACCURATE + FULL INFO about your IMEI. You will get so much information that will be so helpful if you are a seller, buyer, (whether the device you willing to get is new or Second Hand) or a normal user. To get a better idea of this check, here's a sample iPhone IMEI Check PRO sample check:
Model Description: IPHONE 11 PRO SG 256GB VER-USA
نموذج او موديل:- iPhone 11 Pro 256GB Space Gray A2160 US/Canada
IMEI Number: 353xxxxxxxxxxxx
IMEI2 Number: 353xxxxxxxxxxxx
MEID Number: 353xxxxxxxxxxxx
رقم سري: C3xxxxxxxxxxxx
Manufacture Date: 10 Jun 2020
Unit Age: 1 year, 1 month and 4 days
Assembled In: Foxconn Shenzhen, China
حالة التفعيل أو التشغيل:- Activated
حالة الضمان:- Out Of Warranty
Estimated Purchase Date: 1 Jul 2020
Purchase Country: United States
الدعم الفني عبر الهاتف:- Expired
الإصلاحات وتغطية الخدمة:- Expired
AppleCare Eligible: No
تاريخ الشراء:- Yes
Registered Device: Yes
Active Apple Repair: No
Replaced by Apple: No
Replacement Device: No
Refurbished: No
Demo Unit: No
Obsolete Device: No
Loaner Device: No
Find My iPhone: مفعل
حالة الايكلود iCloud: Lost Mode
Blacklist Status: Blacklisted
Blacklist Records: 1
Blacklisted by: Verizon Wireless
Blacklisted on: 2021-05-26 09:14:20
البلد المدرج بها الجهاز فى القائمة السوداء:- United States
Next Activation Policy ID: 10
Locked Carrier: Unlock
SIM-Lock Status: Unlocked
The Information is available for any device that has an IMEI Or Serial number iPhone / iPad / iPod / Apple Watch; if you don't know how to get the IMEI number check our guide on كيف يمكنك التحقق من رقم الايمى؟
Don't know what is IMEI Number?
IMEI number is a 15 digit number used for differentiating between each cellphone device or used to identify any device that uses cellular networks, every number from these 15 digits carries a bunch of information describing its parts like color, storage capacity, model number, model serial, status of warranty, status of the sim lock, blacklisted status, technical coverage and many more,  it's exactly like your national ID but the IMEI number is for cellphones devices.
How do I get my iPad or iPhone IMEI Number?
To get your IMEI Number on iPad or iPhone, do the following steps:
Go to "Settings"
Tap on "General"
Under "About", you will find the "IMEI" number
Here's how it looks on iPad: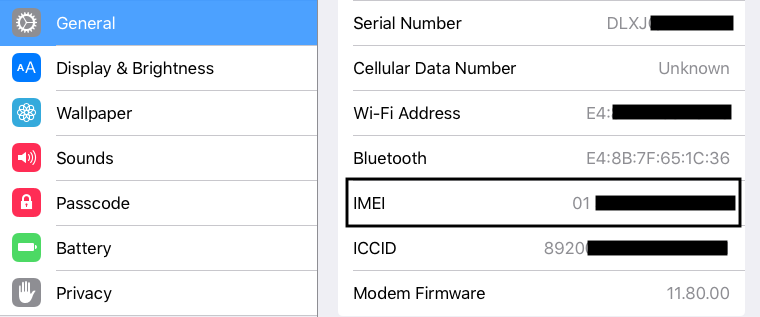 Here's how it looks on iPhone: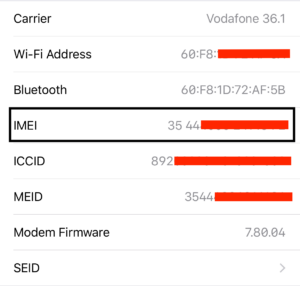 Couldn't find it? Here are 3 Methods to Get your IMEI Number on iPhone or iPad
What's the purpose of my IMEI Number?
It is used to identify every mobile device
If your device gets lost or stolen it can be tracked by the police through this IMEI number.
When the carrier Knows that the device is lost or stolen it can blacklist it, to prevent from accessing on any network unless it gets unblacklisted.
Used to prevent iPhone thieves from accessing to any cellular network.
What information available with this online iPhone IMEI Checker PRO?
نموذج او موديل:- You will be able to know the model, color and storage capacity to confirm if the device that you willing to get from an online store is the same as displayed or not, also double-check the second-hand device while examining it, as it might clone not a real device.
IMEI, Serial Number: Using the IMEI checker service you will be able to get the serial number, that will be used in identifying the device to boost your decision while buying a second-hand device or to make sure that device is real or fake if you are getting it from an unauthorized store.
Identifier: If you would like to download the correct firmware (software) for your iPhone device this identifier result will be very useful for you just write [download, then the identifier result, for example, iPhone 10,4, firmware ]

Blacklist Status: Using the Online iPhone Checker, you will get a full blacklist status, if your IMEI is blacklisted Or clean and if Blacklisted on which carrier and on which country the device gets blacklisted, and the date of blacklisting it, this report is so beneficial to avert you from purchase a blacklisted device. (Blacklist Check service does it)
And if you already had the device better to check it before going overseas,
Blacklisted Country, Blacklisted On: If you decided to un-blacklist your device the blacklist status will help you know the carrier/ country that inserted Your IMEI in the blacklist database, and when does it gets blacklisted so you can easily contact the carrier to remove your device from the blacklist status. (Blacklist Check PRO service does it)
Estimated Purchase Date: within the

valid purchase date

you can recognize from when this second-hand device is working, also it's preferable to check this before tending to buy a device from an unauthorized seller the warranty clock might be ticking down.
Repairs & Service Coverage, الدعم الفني عبر الهاتف:- every Apple product comes with a limited warranty, repair and service coverage period which gives you the demand for free technical support within our check you can easily get the exact time for when will the service expired if available and the days remaining
Refurbished, Replaced: many iPhone users don't know if their devices are Replaced, Refurbished, demo, new
Find my iPhone: in order to know whether your device has an iCloud activated on it or not you have to check the find my iPhone feature our service will help you know is the iCloud is Activated or not if yes this means that the IMEI is having an iCloud activated on it if not this means that the device won't have an iCloud activated on it. (Find My iPhone service does it)
Carrier, SIMLock Status: if you intended to get a second hand iPhone/iPad or traveling overseas, make sure that your device is Unlocked not locked (iPhone IMEI Check service does it), and if locked don't frustrate we still have a way to unlock it just make sure your device locked on which carrier.
Manufacturer, Manufacture Date: if you wondering where or when your iPhone/iPad was manufactured using this IMEI Checker service you will get that.
Basically, we've combined all IMEI Check Services in one PRO Check service!
FAQ
Can I Check if My iPhone is unlocked by IMEI?
Our IMEI check service will help you know whether your IMEI is Locked or Unlocked and if Locked on which carrier, just send the IMEI number, submit your Order within 3 to 10 minutes you will get a result like the below one:
الشبكه المغلق عليها الهاتف UK T-Mobile Orange 

<– Locked on which Carrier 

حالة قفل الجهاز : Locked

<– Lock Status 
The locked device doesn't mean you get stuck, we still have a way to unlock your device.
What does a clean IMEI mean? How Do I check if My IMEI is Clean?
When the device has a clean IMEI number this means that
It's ready for activation on any carrier.
There are no due payments related to the contract on the device.
It's not reported by the owner as lost or stolen as in this case the ESN (Electronic Serial Number) / IMEI number will be prevented from accessing any cellular network.
But our exclusive IMEI Check Online result will provide you with additional information, about the blacklist and Clean IMEI status if your IMEI Clean ✅ or Blacklisted .
Clean IMEI Result Sample: ✅
GSMA Blacklist Status:

كلين Clean:

الصانع:

Pegatron

Manufacture Date:

2018-11-18
Blacklisted IMEI Result Sample:
Blacklist Status:

Blacklisted

تم ادراجة بالقائمه السوداء بمعرفه شبكة:-

T-Mobile (UK) Limited. 

البلد المدرج بها الجهاز فى القائمة السوداء:-

United Kingdom. 

Blacklisted On:

2018-07-25 12:28:45. 

الصانع:

Pegatron

Manufacture Date:

2017-12-02
How Can I check my iPhone is Original or not?
Additional information will be provided from the PRO iPhone IMEI Info service through the refurbished and replaced results
Refurbished means that the iPhone/ iPad was having some broken parts which been replaced with another better one.
Replaced device means that the original device was replaced by the other one due to a service request
For more facts on how can I know if the iPhone is Original or Cloned check our tutorial
Can IMEI be tracked?
In fact yes. Your phone can be tracked using your الايمى by a device called Stingray Phone Tracker by Harris co. or in other words, mobile cell-site simulator, it's a device that makes mobile phones masquerade as legitimate cell-phone towers, tricking phones to connect to the device rather than a tower.
What Kinds of Data Can this device Collect?
Stingray device can collect personal information about anyone carries a phone once connect to the simulator, first, it can easily locate your location,
Read your phone identity directly from the mobile device.
Can get information about calls made and the amount of time on each call and text message.
Listen to your calls.
Videotape you without your knowledge.
The device can easily get some data like visited websites.
Can hack your device and divert your calls and text messages.
But to be fair with you this device is more complicated and too costly to be used by individuals (But the game can be changed any time )as its cost ranges about $150,000, Mobile cell-site simulators are used by the U.S. Army, Navy, FBI, DEA, Marine Crops …, so we can say that these devices are used by Police to help them in crime investigation and finding suspects.
Can I give my IMEI number to anyone?
Anyone can easily retrieve your الايمى by dialing *#06# or check the back of the device many models have the IMEI written there it's not a secret, so if a bad friend has borrowed your phone for a minute he will get it directly, this IMEI number could be used to report your phone as stolen and it will be blocked after that this situation has done in many countries but not across boards, ways of hacking are many and there is no way to escape just throw your phone and keep your data on your mind   .
What does a blacklist IMEI mean? How to check if the iPhone is IMEI blacklisted or Not?
Blacklist is a huge database made by the wireless carriers to just share devices listed as lost or stolen to prevent then from accessing on any cellular network, don't think that Apple has the control to blacklist any iPhone device, in fact, only the wireless carriers that have the power to blacklist and un-blacklist any device.
The concept behind creating this blacklist database is to prevent or reduce thieves from stealing smartphones and make resell impossible as the device will be not able to be activated on any wireless carrier
Within the above information provided, you will receive a full blacklist report about the iPhone device, blacklisted by which carrier, blacklisted on which country and the date of blacklisting.
Whether if the device is clean you will get a clean report within the status
If my device is locked, how do I get it unlocked?
You have first to know your device is Locked on which carrier from the Carrier and SIMLock Status, through the report that you will receive. Go to the iPhone Unlock page to search for the Carrier you get from the report double-check the instructions submit your IMEI, wait until you receive the unlocked message.