Is Your iPhone is Original or Cloned it's not easy to identify the difference between the original and cloned iPhone, as it becomes smarter and more skilled which made its identification too hard, our guide is to help you figure out the difference and whether your iPhone is authentic or just a cloned one.
Clone iPhones is a smartphone that looks like iPhone but not manufactured by an Apple company and sold for cheap prices, with classy unique design and some basic applications, which made it cheap compared to the original iPhone because its materials have less quality either in resistance or technology.
while googling to check the difference between the real iPhone and the clone device we find one of the most asked questions on forums, Why isn't Apple doing anything towards people who are selling clones of iPhone?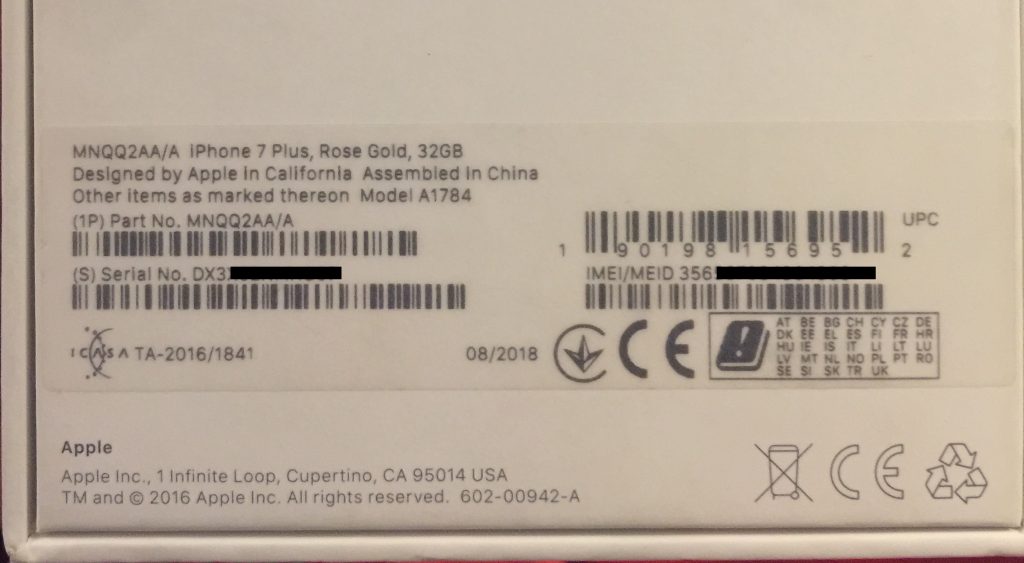 Waarom doet Apple niets tegen mensen die klonen iPhone verkopen?
The issue is not in shutting down the clone iPhone market if you put one seller in jail, the second day a new one will take his place, a loop with no end.
Het echte probleem zit in het proces, of de wet die de makers van valse telefoons toestaat, dat de meeste van hen uit China komen omdat hun regering dit soort handel ondersteunt, en als je probeert een zaak in te dienen, zal het nutteloos zijn omdat je proberen een systeem te bestrijden precies zoals een krijger die tegen een leger vecht.
One our Customer review after he got scammed by an unknown reseller by a cloned iPhone 12, he said that the device was looking very good from outside, but after he switched ON the device and starts its journey, he finds that the device software is not belong to iOS at all, its an Android software, the device speed is too slow compared to any iPhone speed, it has a very bad and blurry quality Camera, its storage is 14 GB although the iPhone 12 has no storage like that at all, its Face ID, Wireless Charging, GPS all are not working, he paid 250$ at this device and got scammed, all the device can do is to call ………..?!!! no more features, so you need to take care
We did a little digging to collect tricks to help you fight counterfeit phones and check whether your device is real or cloned.
Controleer de specificatie op de doos:
You should see the Serial no., IMEI number, iPhone Model, color, and capacity storage labeled on Every iPhone box match them with the device in the box to make sure they are the same.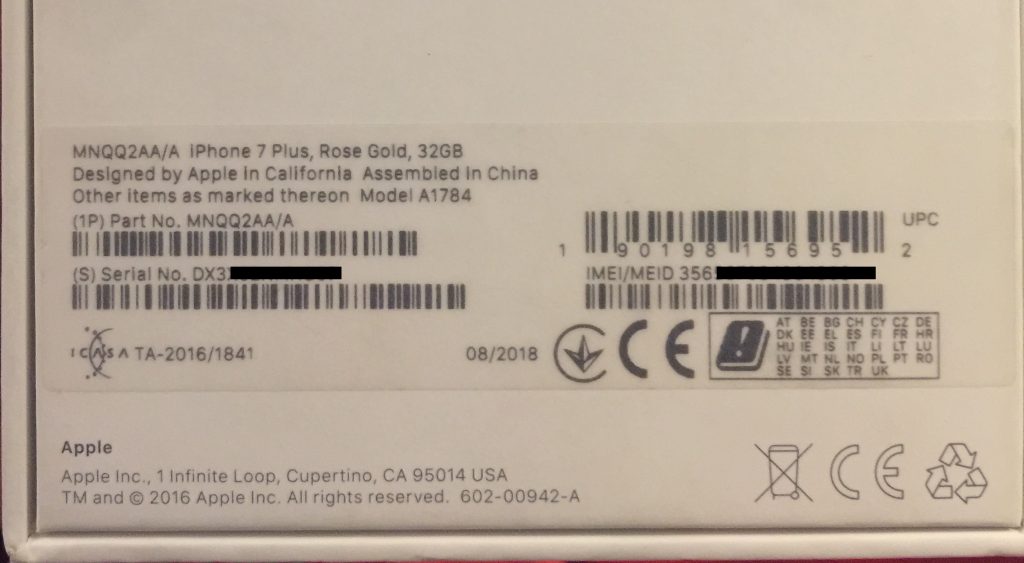 Go to Settings –> General –> About, scroll down until you get the Serial Number and IMEI or dial *#06# to get the IMEI (For more methods on how to get your IMEI check our post) make sure that the IMEI and the Serial on the box are the same as the one in the device.
Identify Your Model:
identifying your iPhone model through the Apple page
Check the screen inch of the device model you have, compare it with the same one on Apple's website.
Check the color does Apple company released that color on that model or not.
Make sure that your SIM Tray has an IMEI number that matches the IMEI number on the device and the one labeled on the box or not.
double-check your iPhone Capacity is it released by Apple in this model or not.
Check if Apple released dual sim on the model you have or not through Apple's Page

Check the iPhone Size and Weight using the Apple page and compare it to your device.
According to the above requirements, If your phone is different from the confirmed original, it isn't authentic.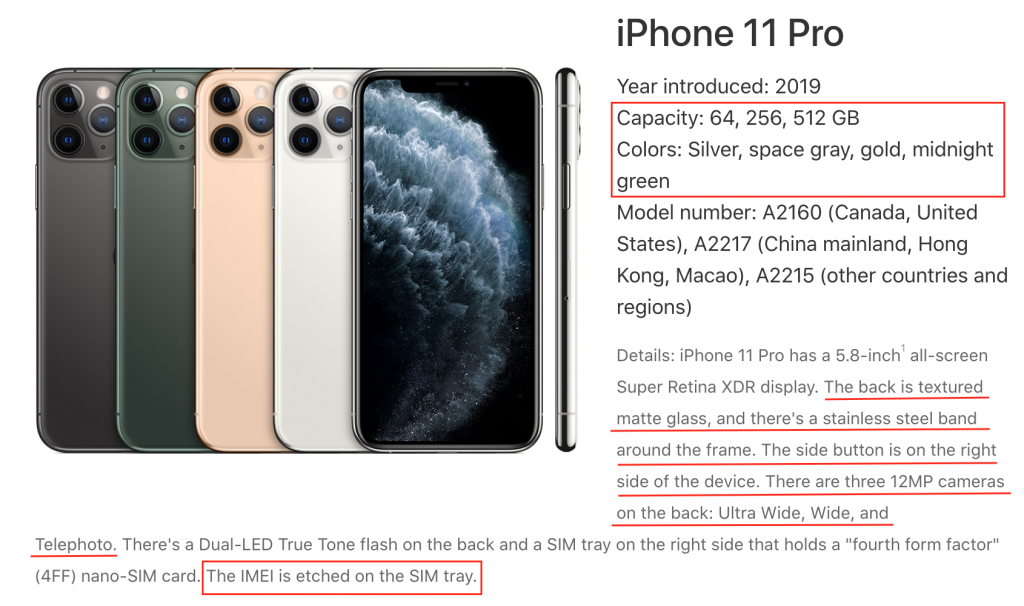 Use IMEI Check Info: 
use IMEI Check service to make sure your IMEI number is an authentic IMEI number and the device is original not Cloned but using the service you will get a result like the below one Confirming your Model, Color, Storage, IMEI, Warranty and Sim-lock Status, blacklisted and iCloud Status, Refurbished or Replacement and more
Model Description: IPHONE XR RED 64GB AT&T-USA
Model: iPhone XR 64GB Red A1984 US/Canada
IMEI Number: 356422XXXXXXX
IMEI2 Number: 356422XXXXXXX
MEID Number: 356422XXXXXX
Serial Number: DNPYQXXXXX
Manufacture Date: 22 May 2019
Unit Age: 1 year, 8 months and 18 days
Assembled In: Foxconn Chengdu, China
Activation Status: Activated
Warranty Status: Out Of Warranty
Estimated Purchase Date: 12 Jul 2019
Purchase Country: United States
Telephone Technical Support: Expired
Repairs and Service Coverage: Expired
AppleCare Eligible: No
Valid Purchase Date: Yes
Registered Device: Yes
Active Apple Repair: No
Replaced by Apple: No
Replacement Device: No
Refurbished: No
Demo Unit: No
Obsolete Device: No
Loaner Device: No
Find My iPhone: OFF
Blacklist Status: Blacklisted
Blacklist Records: 1
Blacklisted by: AT&T Mobility
Blacklisted on: 2019-07-23 01:48:53
Blacklisted Country: United States
Next Activation Policy ID: 23
Locked Carrier: US AT&T Activation Policy
Country: United States
SIM-Lock Status: Locked
Verify your iPhone serial number:
If you get an invalid result from the IMEI Check service use Apple coverage Check services and verify your iPhone serial you should get the status of the iPhone model, Serial Number, AppleCare, Purchase Date, Support status, Repair, and Service Coverage status.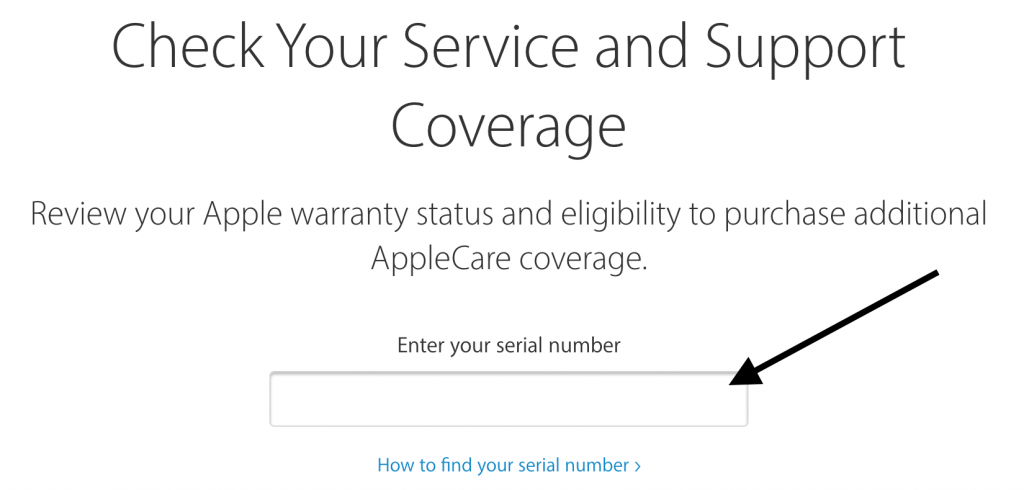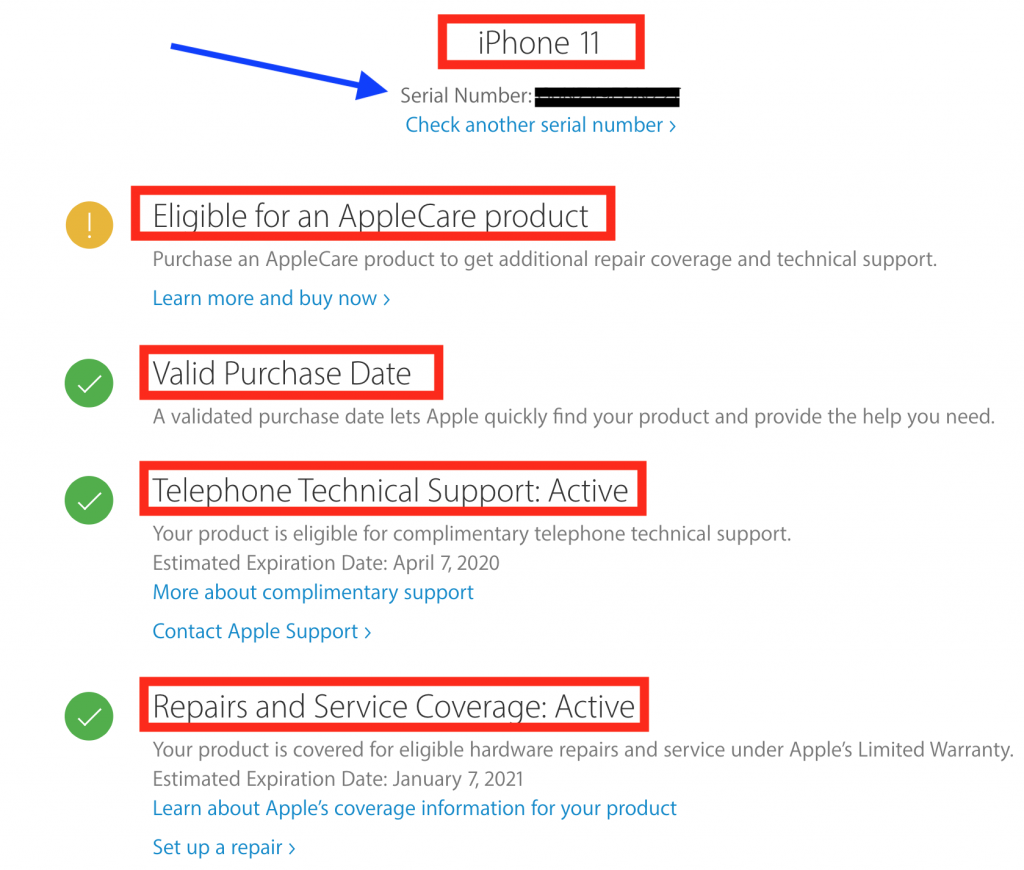 if you didn't get these details or an invalid serial number or a message like the below one, this is an indicator that your iPhone is not authentic or cloned.
"We're sorry, but this serial number isn't valid. Please check your information and try again"
Memory Card Slot:
Most of the Cloned iPhone devices have a slot for external memory storage, keep in mind that there is no iPhone model whether new or old have an extra memory storage slot.
Apple Logo:
On the back of any iPhone, you should see an Apple logo if it's not there so this is an indicator that your device is not a real device.
Most of the Apple iPhone Logos is positioned on the top third of the back except the iPhone 11 (iPhone 11 / 11 Pro / 11 Pro Max ) which has been shifted to the center in order to show users where to place their wireless charger. Take care most of the Cloned iPhone 11 device is still positioning the Apple Logo on the top third.
When you rub your finger over the logo you will feel a different feeling than any place on the back, the logo is not raised or textured or engraved. (this example is for iPhone 4/5/6/7/8 )
if your iPhone differs from that, this is an indicator that your device is not a real device.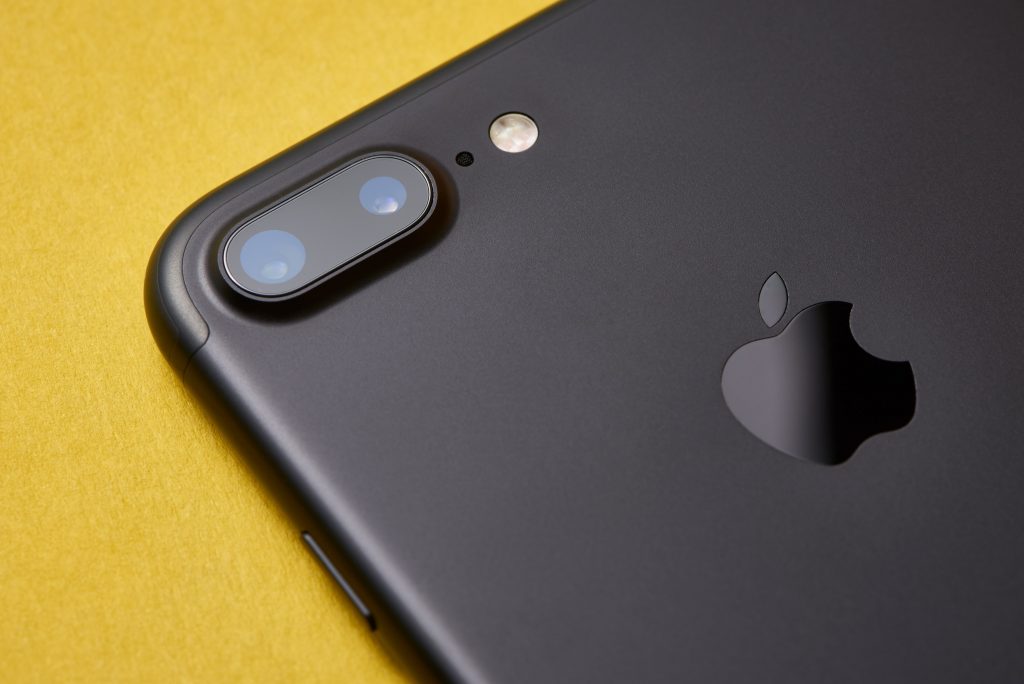 Clock:
On the original, iPhone the Clock is Live while on the cloned device the clock is not.
App Store:
Cloned devices is not linkable to the App Store so make sure that your device is linked to the App Store, download any app from your App store icon to make sure that it is working well.
Software-update:
Try to request a software update from your device as it's hard to copy this technology if failed this is an indicator that your device is cloned not real.
Go to "Settings" App
Then "General"
Then "Software Update"
Apple-ID:
Use your Apple ID and log in. Cloned devices don't have the ability to access Apple ID, most of the cloned devices are using an Android system with a themed iOS skin.
Go to the "Settings" App.
Scroll down to "iTunes & App Store" 
Add Your Apple ID. If you don't have, use our step-by-step guide on how to create Apple ID?
Touch ID:
Most of the Cloned iPhone devices don't have touch id so setting a touch id for your device will help you find out how either if your device is Original or Cloned, follow the steps below if you don't know have to set up your Touch ID.
Notes: Touch ID is only available on the following iPhone models: iPhone 6s /6s Plus / 7/ 7 Plus / 8 / 8 Plus/ SE (2020)
Go to "Settings".
Scroll down to "Touch ID & Passcode"
Enter your "Passcode"
Add Your "fingerprint"
FaceID:
FaceID technology is the most advanced hardware and software that have been created by Apple company, so copying this technology is not easy as you think, most of the clone devices depend on copying the external shape, not its technology or operating system.
Notes: FaceID is only available on the following iPhone models: iPhone 13 Pro Max/ 13 Pro/ 13 mini/ 13/ 12 Pro Max/ 12 Pro/ 12 mini/ 12/ 11 Pro Max/ 11 Pro/ 11/ XS Max/ XS/ XR/ X
The cloned devices will scan your face but when you try to login using the Face ID it will not work
Emergency SOS:
Apple introduced a new feature by the release of iOS 12 which is Emergency SOS that gives you the ability to call emergency services after you quickly click the power button, this service is not available or fake in the cloned iPhone devices, it's only available as a design but not available as a service.
Go to "Setting"
Scroll down till "Emergency SOS"
If it's not working and the button is not clickable this is an indicator that the device is not real.
3G/4G signals are fake:
While googling and digging to cover the cloned iPhone issues we find many reviews from customers who already tried these devices,
Most of them complained about its bad network signals and voice quality as it only supports 2G even though you can see a fake 3G/4G logo in its settings.
Camera:
Try to check your camera in many lighting conditions Apple real cameras have high quality with a very sharp picture. You can easily detect the camera quality of the Cloned devices it's so bad compared to the original iPhone check it in many lighting conditions to get the difference. when you check the clone iPhone camera you will feel that you are carrying an old Nokia n70.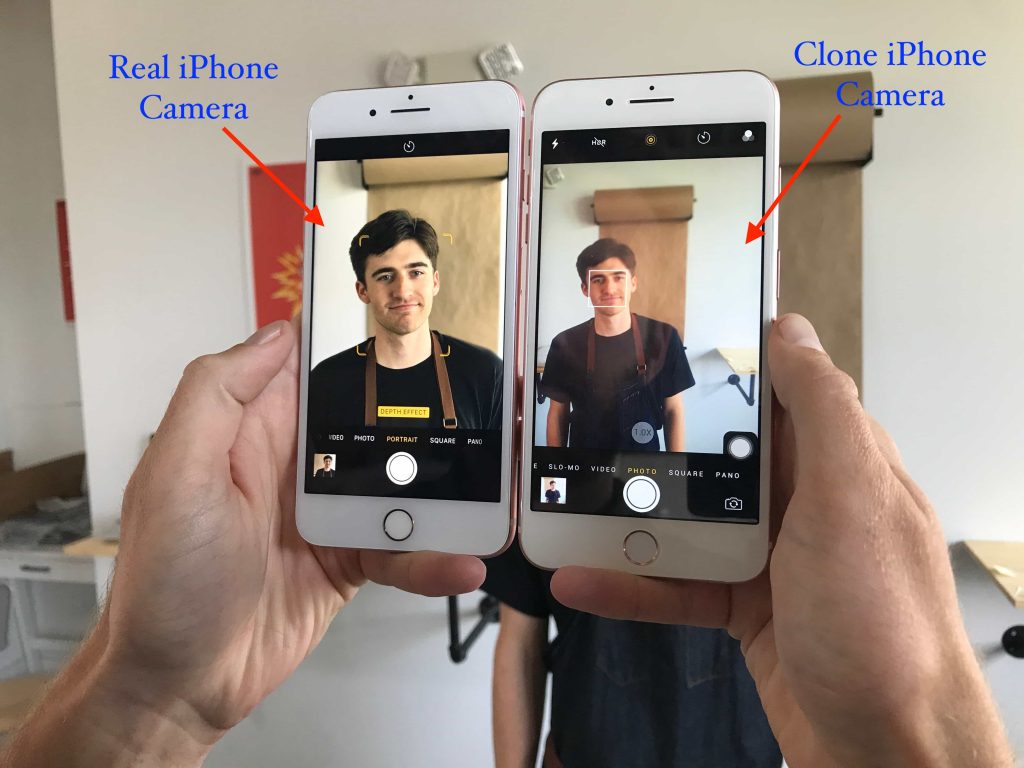 Price:
The price range of the clone iPhone starts from 85$ to 300$, why this significant? keep in mind that if someone attempts to fool you within these prices please double-check the device this is an indicator that the device is a clone, not a real one.
iPhone is Original or Cloned?
Get a Used iPhone better than owning a clone device:
If you are willing to purchase a clone iPhone stay away we know it's too cheap compared to the real device but it's worthless it doesn't have any good features don't waste your money, it's better to get a used real iPhone or a good Android device than get a clone useless device we have tried our best to cover our main points of view on the clone iPhone devices to help you detect whether your device is real or clone if you need help just contact us.
 Image Credit: cultofmac, EverythingApplePro
Helpful Links