Beschreibung
iPhone Unlock ist einer der am häufigsten nachgefragten Dienste, und ist bei uns auch zur Verfügung
If you already purchased a Locked iPhone it doesn't mean you stuck with its Carrier (GSM) forever. To unlock an iPhone from its current network you will have to pay it off with its original carrier,
Let us say your original carrier is USA AT&T and you want to switch to USA T-Mobile. If you have a locked iPhone, you need to pay off its full payment plan and contact the Carrier to unlock it. Or go to a 3rd-party service to unlock your Locked-iPhone with remote unlock.
IMEI Check Sample Result for our service before unlock and after unlock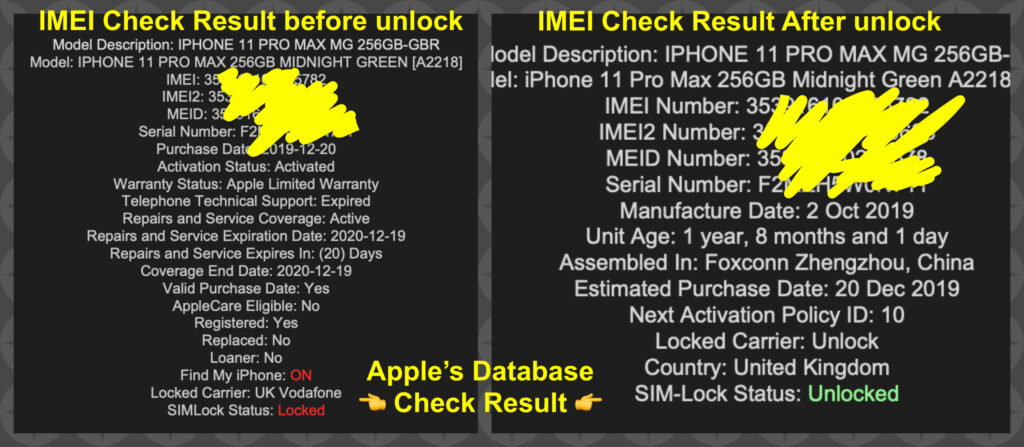 Locked iPhone bedeutet, dass das iPhone nur eine bestimmte SIM-Karte verwenden kann, und um es mit anderen Carriers Netzwerke zu benutzen, müssen Sie es erst entsperren.
Carriers (GSM) sell Locked-iPhones for good prices compared to the Original iPhone Prices just to keep you in their network and pay the contract fees. So,
You won't be able to switch to any other carrier as your device will be carrier lock, unless you pay the whole contract payments. Basically, they sell cheap iPhones to get more customers in their network, it seems like a Marketing Strategy.
What are the requirements for unlocking?
In fact you don't need any details just the IMEI number to get your device unlocked, no cables needed, no complicated steps, no softwares no jailbreaking tools,
Carrier Unlock iPhone

Process?
The iPhone Unlock Process is very simple;
Start calling *#06# from your iPhone dialer, to get your iPhone IMEI number if the device is in your hand, but if not just use other ways.
Once you get the IMEI number make sure its locked on your selected choice just by using the IMEI Check Service.
Select your Locked Carrier and Model. If you don't know your carrier, please don't submit wrong carrier

.

Add your IMEI number on the above bar 15 digits.
Then Press on Add To Cart, to request an unlock and Complete your Payment checkout.
Within the Time frame 🚀 we will update you with the unlocked message 📨.
CONGRATULATION ITS DONE 🤩🥳
Wie lange dauert es, bis das iPhone mein Gerät entsperrt?
Unser iPhone IMEI nimmt 3 bis 7 Werktage und es variiert je nach Modell und Carrier, Sobald wir Ihren iPhone Carrier erfolgreich entsperrt haben, schicken wir Ihnen eine Glückwunsch-E-Mail.
Stelle sicher Stellen Sie sicher vor dem Beantragen einer Entsperrung, dass Ihr Gerät auf dem von Ihnen ausgewählten Carrier ist.
Wenn Sie Fragen haben, können Sie sich an uns wenden , Wir werden Ihre Anfrage innerhalb von 24 Stunden beantworten. Sie können auch Ihre Bestellung verfolgen, indem Sie einfach über die Seite "Bestellung verfolgen" gehen.
Warum muss ich mein iPhone entsperren?
Wenn Sie ein entsperrtes Handy erhalten haben, können Sie Ihr Gerät in jedem anderen Netzwerk verwenden, indem Sie einfach zwischen SIM-Karten wechseln.
Das entsperrte Handy erhöht den Wert des Geräts um ca. 30%.
Es wird für Sie einfacher sein, ohne Einschränkungen von Ort zu Ort zu reisen und zwischen die carriers zu wechseln.
It's Permanent Unlocking service
Sparen Sie Geld bei der Nutzung eines lokalen Roamings und vermeiden Sie exorbitante Gebühren, wenn Sie von Ort zu Ort nach Übersee reisen.
Ihre Freischaltung ist eine lebenslange Garantie.
Aktualisieren Sie Ihr Gerät kostenlos auf eine iOS-Firmware
Unsere Entsperrung erfolgt remote. schicken Sie einfach die IMEI. Nach dem Entsperren müssen Sie Ihr Gerät nur noch mit iTunes verbinden